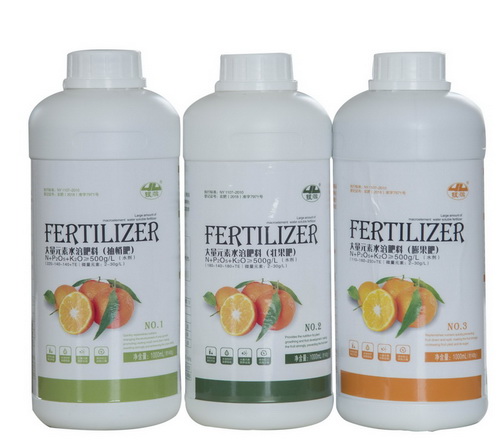 Executive Standard: NY 1107-2010
Registration No.: Agricultural Fertilizer (2018) No.7791
Dosage form: liquid
Product type and efficacy:
Shooting fertilizer: The application of the fertilizer can activate the growth potential of the crop, accelerate the germination of the spring bud, promote fruiting and fruiting of the fruit tree, increase the fruit setting rate, and finally achieve high yield and income.
Strong fruit fertilizer: The application of this fertilizer can balance the nutrient demand for plant growth and fruit development, keep the plant growing vigorously, and effectively prevent fruit malnutrition.
Expanded fruit fertilizer: The application of the fertilizer can provide sufficient nutrients for the crop, so that the fruit expands and gains weight, and the peel is bright and uniform; it can promote the sugar conversion and accumulation of the fruit, enhance the fruit taste and significantly improve the fruit quality.
Fertilizer nutrients: (nutrient content can be customized)

food fertilizer.
Instruction:
1. drip irrigation or flushing: 8-15kg / acre (120-225kg / hectare), about 7-15 days interval or drip irrigation, the fertilizer is diluted 150-200 times and then evenly applied to the root of the plant.
2. foliar spray: 1-2 kg / acre (15-30kg / hectare), spray once every 7-15 days, the fertilizer diluted 800-1000 times evenly sprayed on the front and back of the plant leaf surface.
Note: The above dosage is only the recommended dosage, which should be adjusted according to soil, climate, different crops and growth period.
Recommended crops: citrus, sugar orange, emerald, lemon, etc.