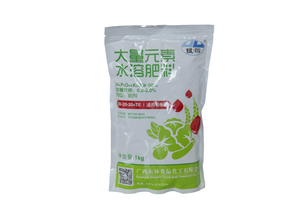 Executive Standard: NY 1107-2010
Registration No.: Agricultural Fertilizer (2018) No. 7970
Dosage form: powder
Product type and efficacy:
17-17-17+TE, 18-18-18+TE, 19-19-19+TE, 20-20-20+TE, 21-21-21+TE: This series of products is a crop full-term long-term formula fertilizer It can be used in the whole growth cycle of crops; applying this series of fertilizers can quickly replenish nutrients needed by crops, promote crop growth, make stems strong, thick green leaves, developed roots, enhance crop resistance, promote flower and fruit conservation, Significant effects have been achieved by increasing crop yields and improving crop quality.
Fertilizer nutrients: (nutrient content can be customized)

Features:
1.Full water solubility, fast dissolution, fully meet the demanding solubility requirements of fertilizers such as drip irrigation and sprinkler irrigation.
2.This product contains all the large amount of nutrients specified by the implementation standards. The nutrient distribution ratio is balanced. One application can simultaneously supplement the large amount of nutrients required for crop growth.
3.Nitrogen rich in three types (ammonium, nitrate and amide), the crop is easy to absorb, quick effect, taking into account quick-acting and long-lasting effects.
4.The product contains trace elements and exists in a chelate state. It can effectively supplement trace elements for crops.
5.This product is produced using high-quality raw materials. It does not use raw materials containing chloride ions and sodium ions. It is fully applicable to various chlorine and vegetable crops, which can effectively protect crop quality without any concern about poisoning.
6.Its pH value is neutral acidity, strong stability, can be mixed with most materials.
7.The heavy metal content of this product is extremely low, fully meeting the quality requirements of green food fertilizer.
Instruction:
1. Drip irrigation or flushing: 3-6kg/mu (45-90kg/ha), intermittently or drip irrigation at intervals of 7-15 days, dilute the fertilizer 150-200 times and evenly spread to the root of the plant.
2. foliar spray: 1-2 kg / acre (15-30kg / ha), spraying once every 7-15 days, the fertilizer diluted 800-1000 times evenly sprayed on the front and back of the plant leaf surface.
Note: The above dosage is only the recommended dosage, which should be adjusted according to soil, climate, different crops and growth period.
Recommended crops: fruits, vegetables, fruit trees, cash crops, field crops